Cytokine Release Syndrome Market Drugs, Trends and Forecast by DelveInsight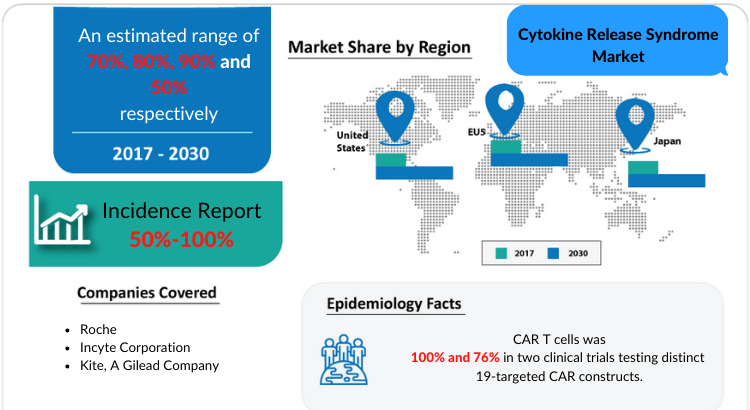 DelveInsight has launched a new report on Cytokine Release Syndrome Market
Cytokine release syndrome (CRS) is a systemic inflammatory response with outpouring of the inflammatory cytokines due to stimulus triggered by a variety of factors such as infections, immunotherapy, especially those involving T-cell engagers and certain other drugs. Even though cytokines acts to direct immune response, the higher levels of cytokines with increased inflammation can be harmful as they interfere with a number of body functions. In severe cases, CRS can cause organ failure in heart, lung, kidney, liver, and brain function that may even lead to death.
Request for free sample copy- https://www.delveinsight.com/sample-request/cytokine-release-syndrome-market
The Cytokine Release Syndrome Market report provides an edge while developing business strategies, by understanding trends shaping and driving the global Cytokine Release Syndrome Market
Cytokine Release Syndrome Market Disease
The main cytokines implicated in the pathogenesis of CRS include interleukin-6 (IL-6), IL-10, tumour necrosis factor (TNF), IL-1, IL-2, IL-8, interferon (IFN)-γ, monocyte chemo attractant protein 1 (MCP-1) and granulocyte-macrophage colony-stimulating factor (GM-CSF) and others. CRS clinically manifests when large numbers of lymphocytes (B cells, T cells, and/or natural killer cells) and/or myeloid cells (macrophages, dendritic cells, and monocytes) become activated and release inflammatory cytokines.
Cytokine Release Syndrome Symptoms
The most widely used grading scheme for the severity of CRS was developed by the National Cancer Institute (NCI). CRS can be classified into following grades:
Grade 1: Symptoms are not life threatening and require symptomatic treatment only, e.g., fever, nausea, fatigue, headache, myalgias, malaise
Grade 2: Symptoms require and respond to moderate intervention, oxygen requirement <40% or hypotension responsive to fluids or low dose of one vasopressor or Grade 2 organ toxicity
Grade 3: Symptoms require and respond to aggressive intervention, oxygen requirement ≥40% or hypotension requiring high dose or multiple vasopressors or Grade 3 organ toxicity or grade 4 transaminitis
Grade 4: Life-threatening symptoms, requirement for ventilator support or Grade 4 organ toxicity (excluding transaminitis)
Grade 5: Death
Cytokine Release Syndrome Companies
Roche
Incyte Corporation
Kite, A Gilead Company
Cytokine Release Syndrome Drugs
ACTEMRA
Itacitinib
Anakinra& Axicabtagene Ciloleucela
Cytokine Release Syndrome Treatment Market
Various incurable malignancies has been managed with cutting edge immunotherapies such as CAR T-cell therapy and specific antibody-based immune engagers. However, the toxicities of these innovative new therapies, especially CRS and neurotoxicity, must be managed. CRS generally occurs within days after CART cell infusion. While identification of factors predictive of severe CRS continues to evolve, one mainstay of CRS treatment is to deploy anti-cytokine therapy early in the CRS course to prevent progression into severe life-threatening higher grade CRS. As many symptoms of CRS can mimic other medical conditions such as sepsis, infection, or adrenal insufficiency, it is of utmost importance that a thorough workup is performed to rule them out.
Cytokine Release Syndrome Report Scope
The report covers the descriptive overview of Cytokine Release Syndrome, explaining its causes, signs and symptoms, pathophysiology, diagnosis and currently available therapies
Comprehensive insight has been provided into the Cytokine Release Syndrome epidemiology and treatment in the 7MM
Additionally, an all-inclusive account of both the current and emerging therapies for Cytokine Release Syndrome are provided, along with the assessment of new therapies, which will have an impact on the current treatment landscape
A detailed review of Cytokine Release Syndrome market; historical and forecasted is included in the report, covering drug outreach in the 7MM
The report provides an edge while developing business strategies, by understanding trends shaping and driving the global Cytokine Release Syndrome market
Request for free sample copy- https://www.delveinsight.com/sample-request/cytokine-release-syndrome-market
Table of content
1. Key Insights
2. Executive Summary of Cytokine Release Syndrome (CRS)
3. Cytokine Release Syndrome (CRS) Market Overview at a Glance
4. Disease Background and Overview: Cytokine Release Syndrome (CRS)
5. Case Reports
6. Epidemiology and Patient Population
7. United States Epidemiology
8. EU5 Epidemiology
9. Japan Epidemiology
10. Current Treatment and Medical Practices
11. Unmet needs
12. Marketed Drugs
13. Emerging Drugs
14. Cytokine Release Syndrome (CRS): 7MM Market Analysis
15. Conjoint Analysis
16. United States
17. EU-5 Countries: Market Outlook
18. Japan Market Outlook
19. Market Drivers
20. Market Barriers
21. SWOT Analysis
22. Reimbursement and market access
23. Appendix
24. DelveInsight Capabilities
25. Disclaimer
26. About DelveInsight
Reasons to buy
The report will help in developing business strategies by understanding trends shaping and driving the Cytokine Release Syndrome market
To understand the future market competition in the Cytokine Release Syndrome market and Insightful review of the key market drivers and barriers
Organize sales and marketing efforts by identifying the best opportunities for Cytokine Release Syndrome in the US, Europe (Germany, Spain, Italy, France, and the United Kingdom) and Japan
Identification of strong upcoming players in the market will help in devising strategies that will help in getting ahead of competitors
Organize sales and marketing efforts by identifying the best opportunities for Cytokine Release Syndrome market
To understand the future market competition in the Cytokine Release Syndrome market
Related Report
Media Contact
Company Name: DelveInsight Business Research LLP
Contact Person: Yash Bhardwaj
Email: Send Email
Phone: +919650213330
Address:304 S. Jones Blvd #2432
City: Las Vegas
State: NV
Country: United States
Website: https://www.delveinsight.com/